Home Inspections – Home Improvement App – Serving Chicagoland IL
Home Inspection
Professional Home Inspection for your Chicago Area Home
Home Inspection - BuildBoard provides home inspection services for any Chicago area home!
Home Inspection – BuildBoard's Home Inspection Services can assist you in finding a top-rated Certified home inspector in the Chicago region.
Our trained home inspectors will evaluate the roof, structure and foundations. They'll also evaluate the attic ventilation and insulation, doors and windows, and the interior and exterior walls. They will also inspect the plumbing, electrical and HVAC systems, kitchens (including built-in appliances), and bathrooms, among other things.
Purchasing, selling, or maintaining a home is likely to be one of the most significant projects you will ever undertake. A home inspection should be completed by a Certified Home Inspector. Someone with years of experience to avoid any unpleasant surprises or unanticipated challenges.
Look no further, BuildBoard is here! You'll get top quality home inspectors in the Greater Chicago Area, regardless of the condition of your home or property. Our home inspection contractors know exactly how to manage each circumstance as professional certified home inspectors. They are ready to deliver the best inspections possible and answer to all your questions. Do you need a home inspected for buying, selling or maintenance? Contact BuildBoard today!
Home Inspection Near Me
BuildBoard is your go-to app for Residential Door Installation and Repair.
Are you curious about what a regular home inspection from BuildBoard's home inspectors entails?
Here's a quick rundown of the general services included in your home inspection. Additionally, here are the primary systems they will look at and evaluate during the process. (List may vary, consult your inspector directly for more details)
Exterior
Interior
Foundations, Basements and Crawl Spaces
Attic, Ventilation & Insulation
Roof
Appliances
HVAC
Electrical Systems
Doors, Windows & Interior
Plumbing
Pests
Mold
The skilled house inspectors at BuildBoard understand the value of punctuality and on-time project completion. They won't keep you waiting for outcomes that you don't need; they'll go to work straight away. Home inspectors from BuildBoard will go through the building, looking for anything that isn't quite right.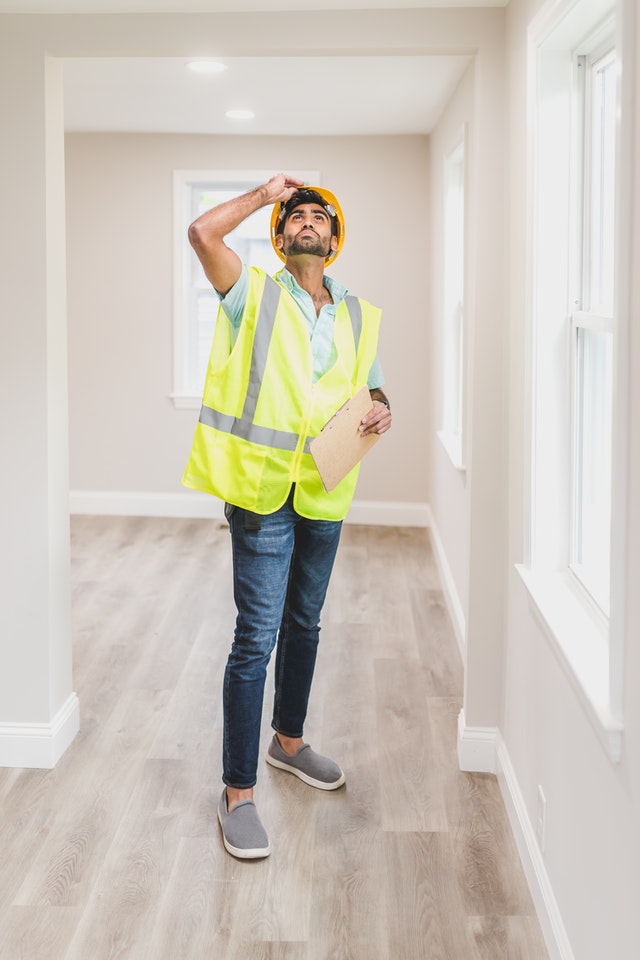 Complete Home Inspection Services in Chicago
When you hire BuildBoard's experts for home inspections, you can expect a thorough examination of all of your house's essential systems. On your home, you can perform the following inspections:
Attic: Ventilation & Insulation
The attic is a common location for faults. All structural parts of the attic will be examined by BuildBoard home inspectors. Have your roof trusses been harmed during the construction process? Are your rafters properly supported? What about the purlins and collar ties? Is there any insulation? It's not just about increasing the effectiveness of your HVAC system when you have adequate insulation. Did you realize that improper insulation and ventilation might cause your roof to collapse? Did you know that it might lead to harmful indoor environmental conditions? Our professionals will evaluate all components of your attic. This includes all structural parts, the type and amount of insulation. As well as certifying that your home has sufficient ventilation when you choose BuildBoard for home inspection.
Roof
BuildBoard home inspectors will examine your roof, including penetrations, flashings, and drainage systems. This is to give you a clear picture of how well it will protect your home. Because the roof is one of the most significant and expensive components of your home, it must be thoroughly evaluated. They will examine your roof's shingles, valleys, ridge vets, decking, plumbing boots, and many other components. You won't have to be concerned when you choose BuildBoard home inspection.
Exterior Structure & Cladding
What is the exterior appearance of the house and what is its purpose? What is the state of the cladding? Have you thought about the porches, patios, and decks? Were they constructed properly? BuildBoard home inspectors will look over the entire outside of the house. This includes the eaves, soffits, fascias, driveways, patios, walks, retaining walls, and more to make sure there are no issues you should be aware of before selling or buying. After all, your home's exterior isn't just about appearances. It's what shields your home from the destructive affects of the outside world.
Interior Structure
The walls, doors, and windows of your home, among other things, must be inspected. BuildBoard house inspectors will look for damaged seals and signs of water infiltration in the windows. They'll double-check that your windows and doors open, close, and lock properly, and that there's no raking. They will also inspect your floors and walls to ensure that there are no signs of underlying structural difficulties. Making sure that nothing could endanger you and your family after you make your purchase.
HVAC (Heating, Ventilation, and Air Conditioning) Systems
One of the most significant aspects of a house inspection is the HVAC system. Do you have any idea why? Carbon monoxide poison is deadly! A properly operating HVAC system is essential not just for your family's comfort, but also for their safety. Carbon monoxide will be emitted if the unit's combustion is faulty. This has the potential to kill you and your family. When BuildBoard home inspectors check HVAC equipment, they do so with the understanding that my performance is critical to your family's survival! Is there soot in the unit's exhaust vent? Is the form and size of the burner's flames inconsistent? Can you see a difference in color? Are there any cracks or debris in the heat exchanger that they can see? These are all important questions to ask in order to assess if your HVAC system is operating safely and correctly.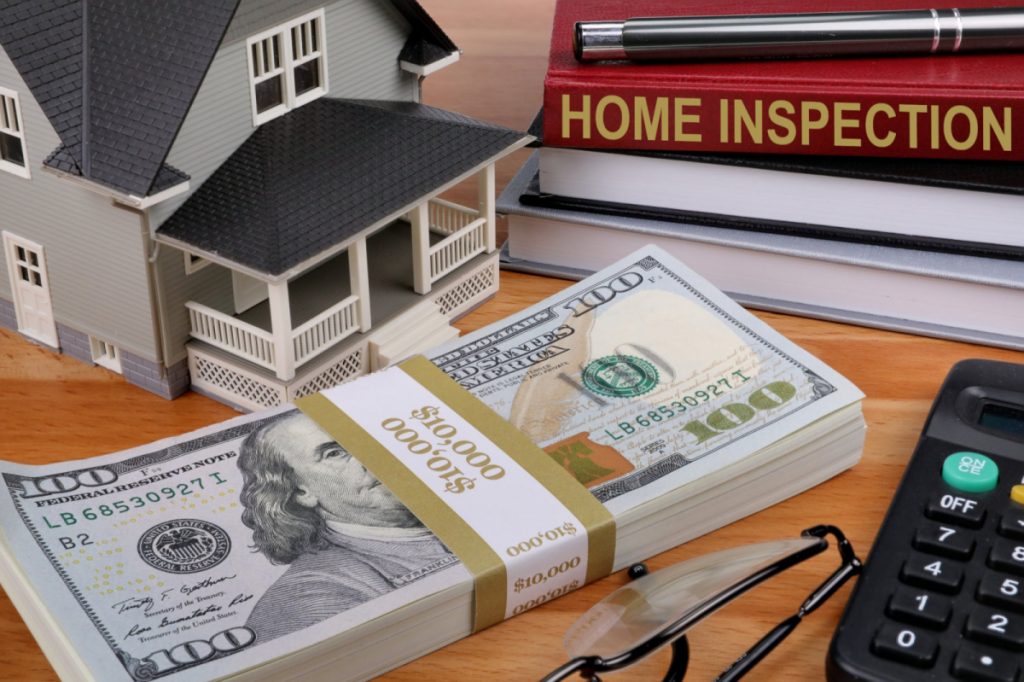 More Home Inspection Services in Chicago
Electrical Systems
A properly working electrical system is critical to the safety and functionality of your home. Is there enough amperage on the panel to fulfill your family's needs? Are the wires correctly gauged for each circuit's amperage? Do you have any sub-panels? Do they have both isolated and separated neutrals and grounds? While inspecting your electrical system, a professional inspector should ask all of these questions. BuildBoard home inspectors inspect the wiring and circuitry, ceiling fans, lighting, grounding of outlets, smoke detectors, and other items. If you have concerns about your home's electrical system, they will inspect it and ensure that it is functioning properly.
Plumbing Systems
Few things may be as depressing as significant plumbing problems when moving into a new house. Are the galvanized drain lines' joints leaking? Is it true that supply lines are made of polybutylene? Have you checked if the water heater is in good working order? Have you noticed water leaking behind the bathtub, damaging the base plate and subfloor? You won't have to worry about these queries if you hire BuildBoard home inspectors. Their plumbing check is as thorough as it gets, from making sure the faucets and drains function to looking for leaks and damaged pipes.
Built-In Appliances
Built-in appliances, such as the stove and dishwasher, are critical components of any home. You won't be able to enjoy family dinners prepared in your new kitchen without them. Any permanently installed appliances will be tested to verify if they work by BuildBoard home inspectors. This includes the dishwasher, stove, cook top, garbage disposal, ventilation hood, and permanently installed microwaves. They will run the appliance through one standard cycle whenever possible.
Wood stoves and fireplaces
A fireplace or wood stove can be a great addition to your house and budget. But if the flue is in bad shape, it can rapidly become a fire hazard. BuildBoard home inspectors will inspect the chimney thoroughly. This is to verify that these features will add value to your property rather than detract from it.
Attached Garages
The garage is included in the examination if the home has an attached garage. The structure and the opener will be inspected by BuildBoard home inspectors to ensure that everything is in proper functioning order. They'll also check to see if environmental risks like carbon monoxide are appropriately isolated from your home's interior.
Crawlspaces and Basements
When inspecting a crawlspace, BuildBoard home inspectors look for mold, structural issues, plumbing, electrical, and HVAC systems, to name a few. Did you realize that your crawlspace provides almost 40% of the air you breathe in your home? Did you know that mold and wood-destroying fungi love to breed in basements and crawlspaces? What about your house's foundation? Is there any evidence of water damage beneath the kitchen or bathroom cabinets? What about the Sill Plates and Rim Joists? Is there a vapor barrier in place, as well as enough ventilation? When a home inspector inspects beneath your house, they should ask all of these questions. The inspectors at BuildBoard take pride in being the most thorough in the industry.
Expert Home Inspection in Chicago
With BuildBoard you can get your home inspected for repairs, maintenance, buying or selling fast and easy! BuildBoard home inspection contractors have years of experience. They will offer you competitive quotes and answer all of your home inspection questions. Use the BuildBoard app today and get your home inspection immediately!
BuildBoard Supported Home Remodeling Projects
Schedule a quick call with the BuildBoard team to get started
Still want someone to come to your home to start the quoting process? No Problem.
If you are more of the in-person type, BuildBoard can still help. Instead of having many contractors come to your home, schedule an in home visit with someone from the BuildBoard team. We would be happy to come to your home and help talk through your home remodeling projects requirements and help you get it posted. Don't search for "remodeling contractors near me", let us do it for you.
Schedule a call below to set up a visit with one of our home remodeling professionals.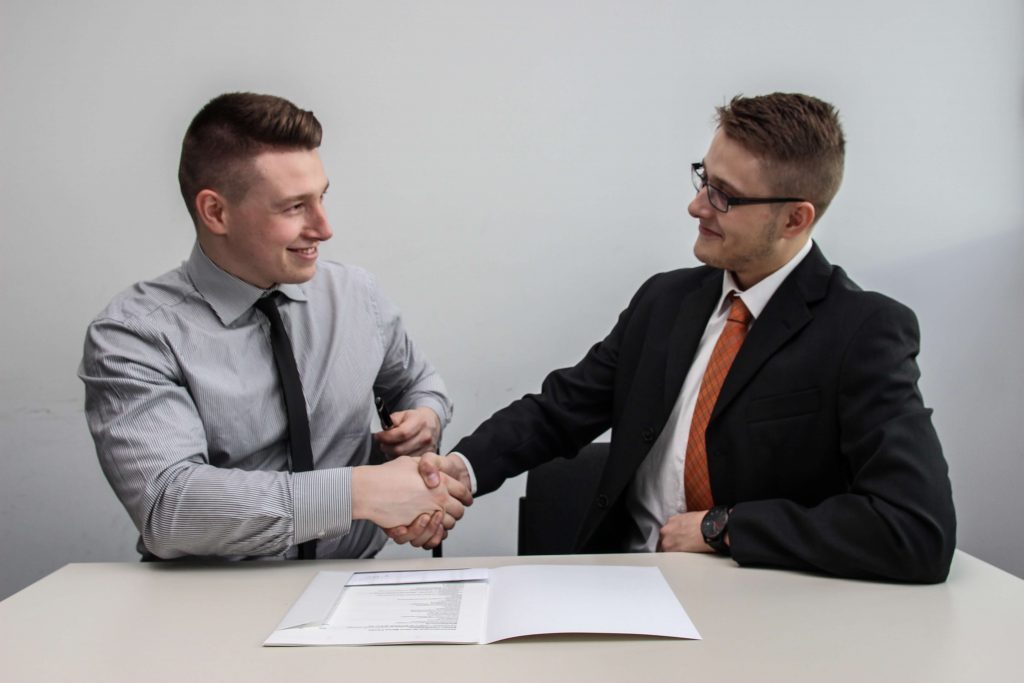 Still Skeptical? These are the top 4 reasons to use BuildBoard for your next home remodeling project!
Save Time and Money
Getting quotes without in-home visit saves you time and money.
Local, Insured Contractors
Work with local, verified contractors who actually quote, and show up to get your project done
24X7 Project Support
The BuildBoard team is here to help with anything from design, project posting, through permitting and payment help.
Easy to Use
BuildBoard provides a simple to use web and mobile platform to keep you in control of your project.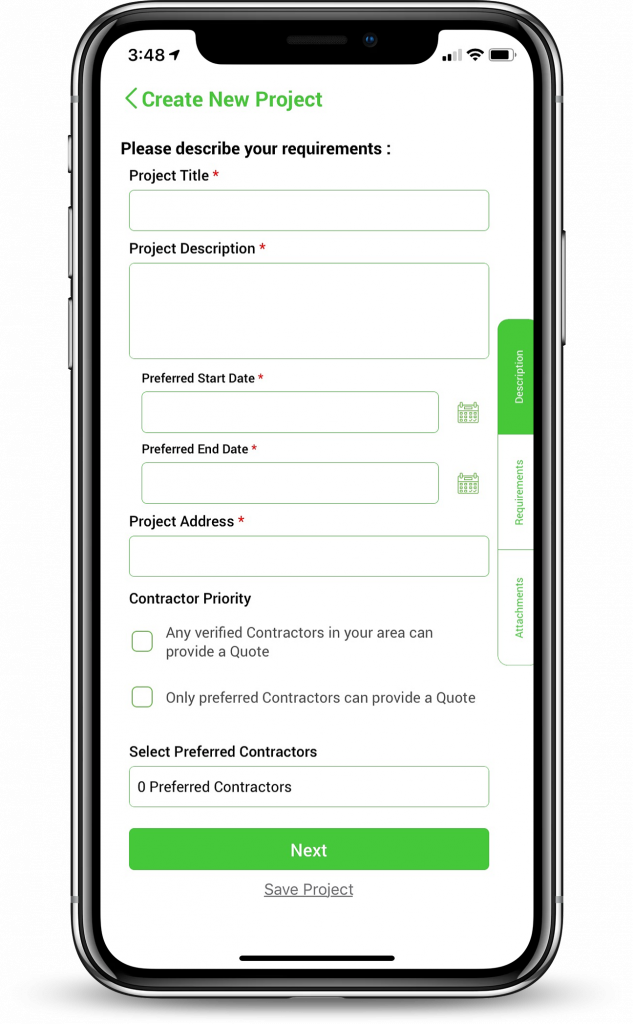 POST YOUR PROJECT IN MINUTES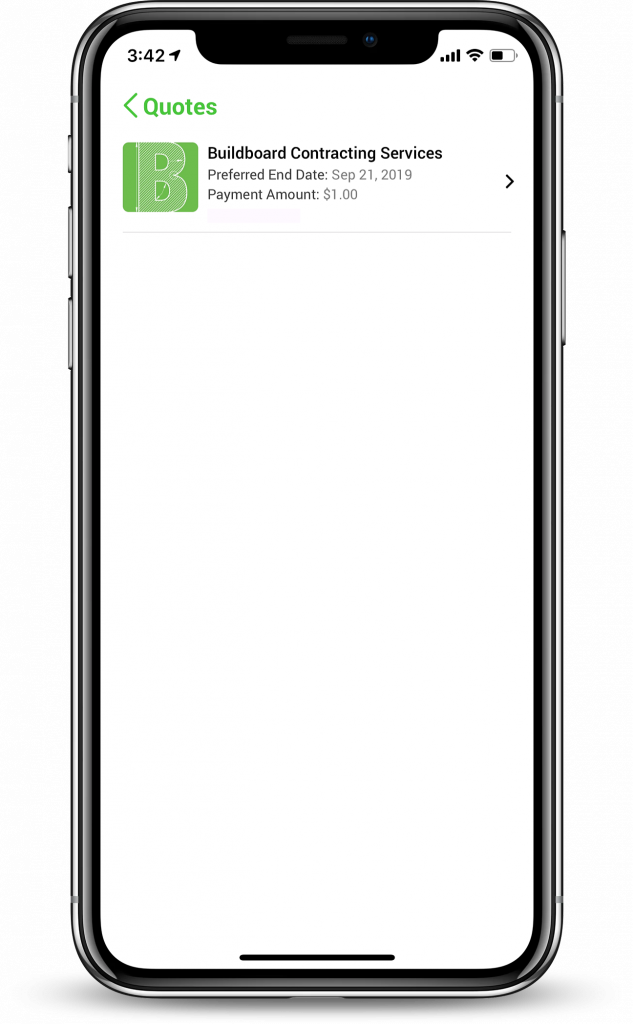 GET QUOTES AND CHOOSE A LOCAL CONTACTOR
MAKE PAYMENTS, AND TRACK PROJECT PROGRESS FROM THE CLOUD
© All rights reserved. Buildboard 2019