Window Installer – Home Improvement App – Serving Chicagoland IL
Window Installer
BuildBoard provides window installer quotes for your Chicago Area Home
Offering complete window installer services in Chicago - window replacement near me
At BuildBoard, we're all about – you guessed it – replacing windows. Our goal at BuildBoard is to shed beautiful light into your home through our high-quality, energy-efficient window installer quotes from local Chicago area contractors.. After 20+ years, we're the leading choice for Chicago window replacement, installation, and repair services.
BuildBoard's company reputation in the Greater Chicago Area comes from providing exactly what the customer wants: customizable windows and doors to fit your diverse needs. We only work with experienced window installers who know the entire process from start to finish with an attention to detail on replacing or installing your windows.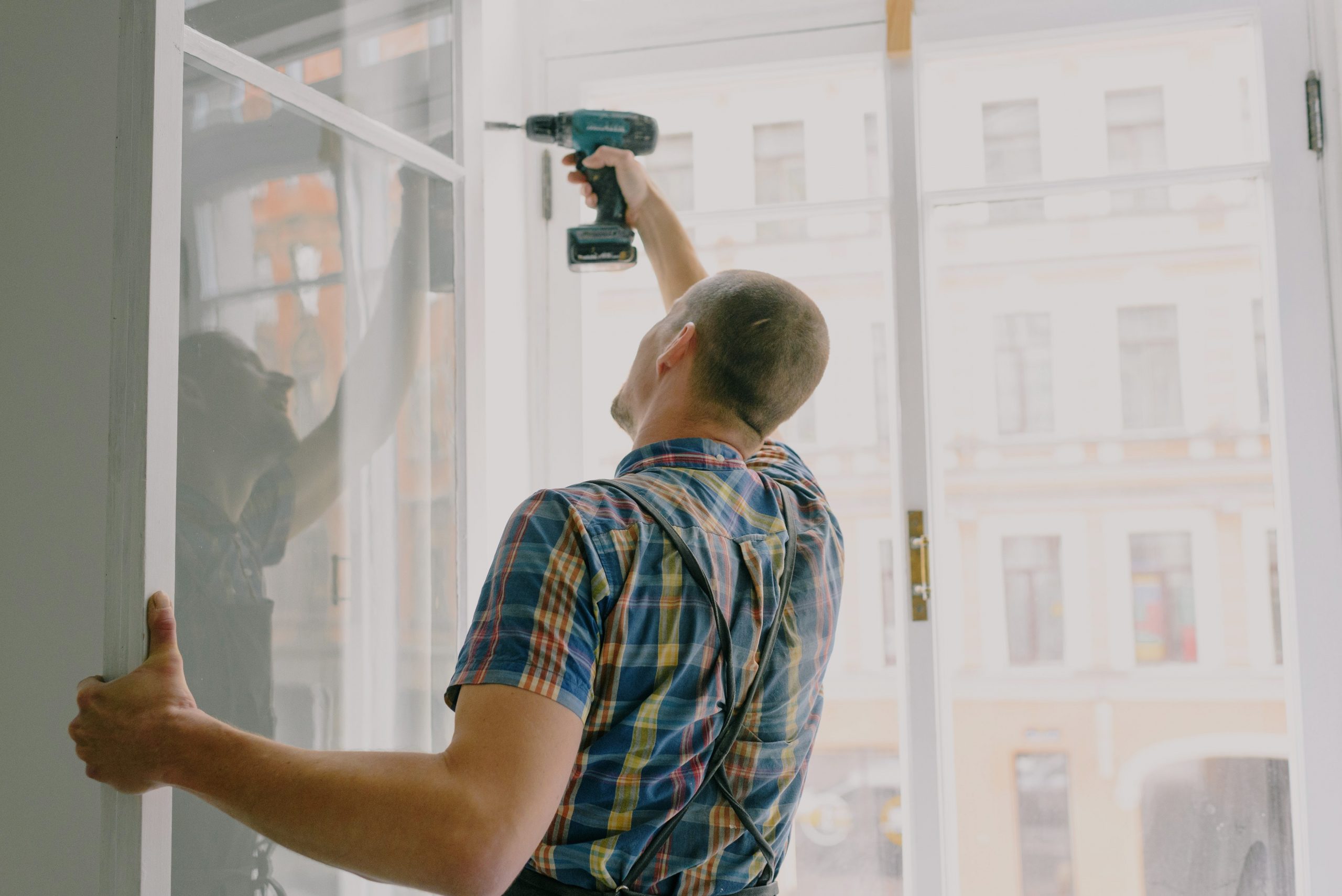 Designing and installing new windows for your home - Window installer near me
When considering which windows to install and which company to choose, you should be aware of the BuildBoard process that ensures that your new windows will be exactly what you want.
Step 1: Post your window project to BuildBoard
Post your window installation or window replacement project to BuildBoard. As soon as we receive it our expert window installer contractors will go right to work to provide you with a fast and expert quote for your project.
Step 2: Selecting Windows
We are confident that we will have replacement windows to fit your property in the greater Chicago area. Your window installer contractor will present you with several options from which to pick. Bay and bow windows, casement windows, high profile or fixed windows, awning windows, and other choices are available. Quality replacement windows will not only improve the appearance of your home, but additionally will also boost its value. As part of our dedication to the environment and saving you money, our BuildBoard window installer professionals use the most up-to-date technology and materials to maximize fit and assure energy efficiency.
Step 3: Windows Installed
BuildBoard exclusively works with the most competent and knowledgeable window installation crews who strive to exceed industry standards on a regular basis.
If you go around the Chicago area, you'll see plenty of examples of our contractor's work – as well as happy, smiling customers. BuildBoard window installers provide excellent customer care. They arrive on time and maintain a safe and clean work environment throughout the window and door installation process. After your doors and windows are installed and changed, BuildBoard window installers call you to check the project is completed to your satisfaction.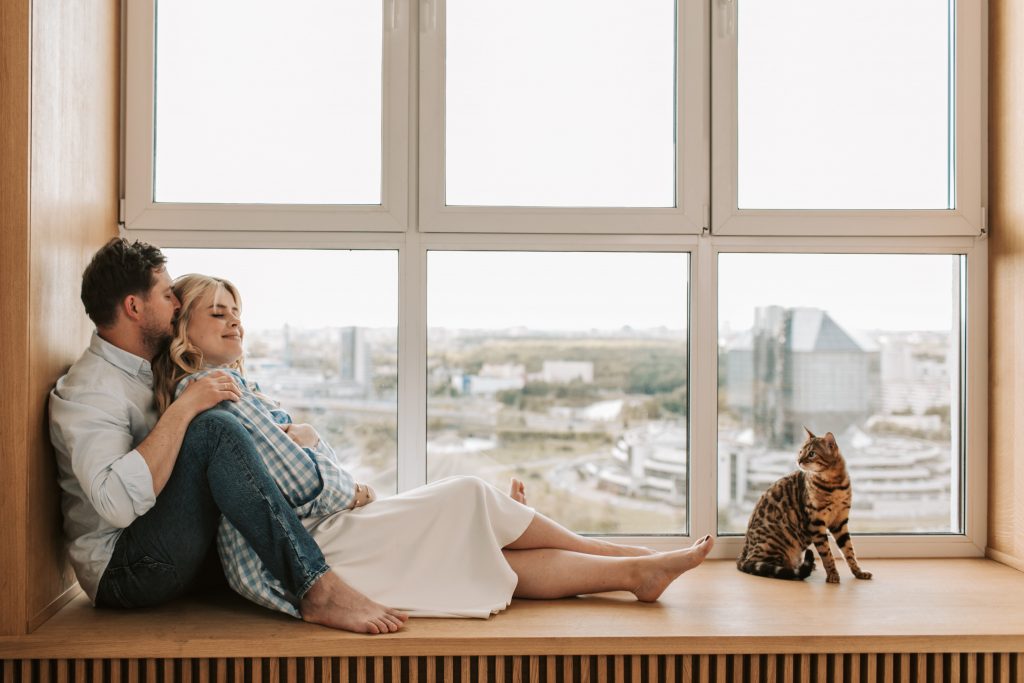 Types of Windows
Vinyl Windows & Wood Windows
Vinyl and wood windows compete for your attention when it comes to purchasing new windows for your home. Wood and vinyl both have advantages. Wood windows have a timeless appeal that vinyl can only aspire to. However, for the vast majority of homes, vinyl's low cost is a draw that outweighs wood's aesthetic appeal. Which window style is best for your home?
Double Hung Windows
Double hung windows are a common option for any home design. They have two levels of ventilation thanks to top and bottom sashes that swing up and down. They are simple to clean because of the inward tilting sash. (pictured)
The most significant advantages of double hung windows
Your home will benefit from the fresh air provided by double hung windows. They enable flexible ventilation by opening from the bottom up and the top down. This is also a better option for kids and pets.
You can clean both sides of the window from inside your home because the sash tilts inward. Double hung windows are suitable for multi-level residences because of this.
Why should you go with vinyl double hung windows?
You can rely on the longevity of vinyl double hung windows. They're weather-resistant and require little upkeep. The vinyl material provides excellent insulation, ensuring your family's comfort throughout the year. Vinyl windows are energy efficient, which means they can help you save money on heating and cooling.
Replacement Windows & New Windows
When it's time to replace your windows, you're probably thinking of replacement windows. This is true in many circumstances. Replacement windows, on the other hand, may not be the best option in some cases. You should first grasp the difference between replacement and new construction windows before deciding which type of windows are suitable for your property.
Differences in Design
Replacement windows are designed to replace existing windows in a property. They are designed to be placed from the inside of the house into the existing window frame. This eliminates the need to remove any exterior pieces and enables for a quick, painless, and minimally invasive installation. The existing window opening is measured, and the replacement window is custom ordered to properly fit the aperture.
Windows for newly built homes or other new construction, such as a home extension, are known as new construction windows. They have a nail-fin frame, which allows the windows to be fastened directly to the framing of the house. This isn't to say that they can only be utilized on newly built residences. In some situations, replacing old windows with new construction windows is the best option.
When Should You Replace Your Windows?
Replacement windows are the greatest option if existing window frames are in good repair and you need new windows. Replacement windows are good for window repair, broken windows, and repair windows. The old frames must be removed from the existing opening before new construction windows can be installed. This is accomplished by removing the old frames by cutting back the original outside siding material. This is a more complex installation that may result in harm to the region around the window as well as an increase in installation costs.
When Is It Appropriate to Use New Construction Windows?
Replacement windows are not the ideal option if the window frames in your current home are in poor condition. It would be necessary to remove and replace the current window frames. It's the ideal moment to install new-construction windows, given the amount of carpentry necessary. Replacement windows are still an option, but new-construction windows are typically more solid and won't block your view. Because replacement windows are designed to fit inside existing window frames, there is less glass and hence a smaller view.
Which Window Is the Most Cost-Effective?
When replacing windows in an existing home, or repairing a broken window, replacement windows are usually the most cost-effective alternative. New-construction windows may have a lower sticker price at first, but the cost of replacing the existing window frame as well as fixing the surrounding interior and external walls can quickly add up. New-build windows, on the other hand, are the greatest alternative and wisest investment if you're installing windows in new construction or if your old window frames are in poor condition.
BuildBoard's Window Installation Tips for Homeowners
Renovation spending has risen significantly over the last two decades, according to the Home Builders' Association. Even as homeowners in the Chicago area face harsh economic conditions and budget restraints, the home improvement market continues to develop at a steady pace.
The two primary reasons why homeowners spend money on renovations and improvements for their homes:
They place a premium on comfort and convenience.
Window installations will increase the value of your home on the resale market.
Replacing your aging windows is likely to be one of your top remodeling and improvement priorities. A wise investment in your home is a high-quality, energy-efficient window. Poorly installed windows, on the other hand, will not achieve the energy efficiency and cost savings that they were supposed to provide. That is why qualified, certified, and insured installers are required for proper installation.
Poor window installation can lead to five common scenarios for homeowners:
During the winter months, the installers neglected to adequately insulate your windows, resulting in frigid drafts.
Because of incorrect installation, your freshly installed, high-quality windows do not perform properly or satisfy your visual expectations.
There is wood decay and mold that the installer failed to advise you about. As a result of the bad installation, you have condensation, moisture, and a higher risk of mold growth.
Careless installers can harm to your carpets, flooring, and/or property.
There is a post-installation issue, but the installer, a piece-rate subcontractor, is unwilling to assist. Because they did not install the windows in the first place, the dealer or manufacturer will also refuse to help.
Our window installer contractors at BuildBoard handle your property as if it were their own. You can count on us to protect your money completely. We will NEVER give a low-quality contractor with a quote for the installation of your new windows. All of our windows are installed by qualified, skilled, licensed, and insured window installers. Our window replacement experts will protect your investment.
Expert window installer services and window replacement in Chicago
BuildBoard's window installer experts are here to ensure that your new windows are both attractive and functional. BuildBoard will be there with you every step of the way. From helping you get the right quote for your windows to choosing which type is right for you. BuildBoard contractors will install the right windows for the needs and look of your home or property.
BuildBoard Supported Home Remodeling Projects

Countertops

Decks & Porches

Doors

Driveways

Gutters & Downspouts
HVAC

Home Inspections

Radon Testing

Other
Schedule a quick call with the BuildBoard team to get started
Still want someone to come to your home to start the quoting process? No Problem.
If you are more of the in-person type, BuildBoard can still help. Instead of having many contractors come to your home, schedule an in home visit with someone from the BuildBoard team. We would be happy to come to your home and help talk through your home remodeling projects requirements and help you get it posted. Don't search for "remodeling contractors near me", let us do it for you.
Schedule a call below to set up a visit with one of our home remodeling professionals.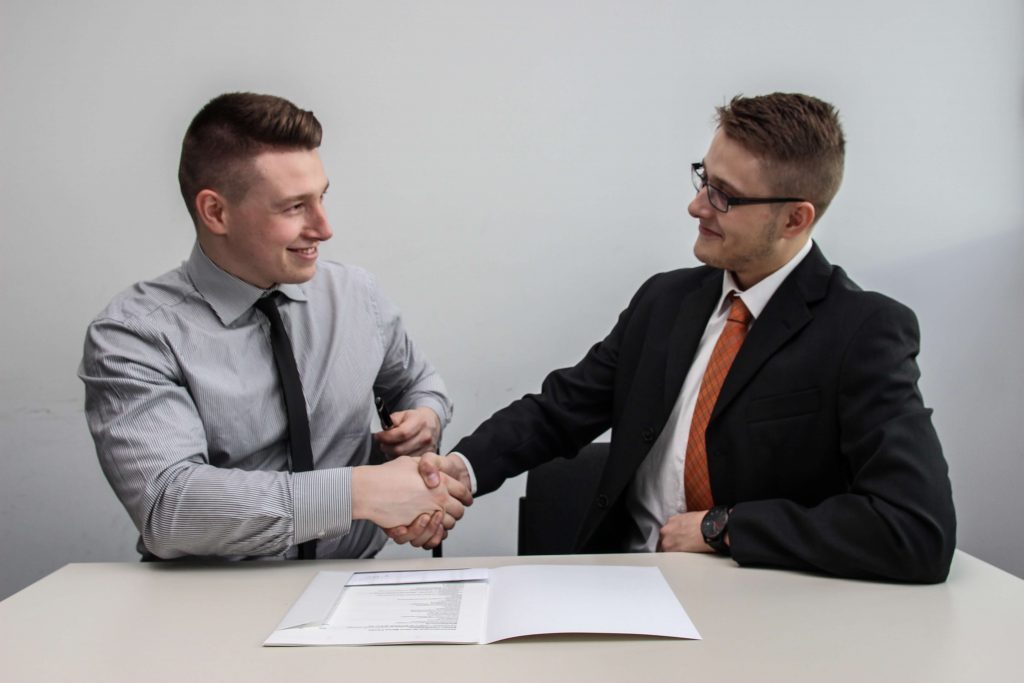 Still Skeptical? These are the top 4 reasons to use BuildBoard for your next home remodeling project!
Save Time and Money
Getting quotes without in-home visit saves you time and money.
Local, Insured Contractors
Work with local, verified contractors who actually quote, and show up to get your project done
24X7 Project Support
The BuildBoard team is here to help with anything from design, project posting, through permitting and payment help.
Easy to Use
BuildBoard provides a simple to use web and mobile platform to keep you in control of your project.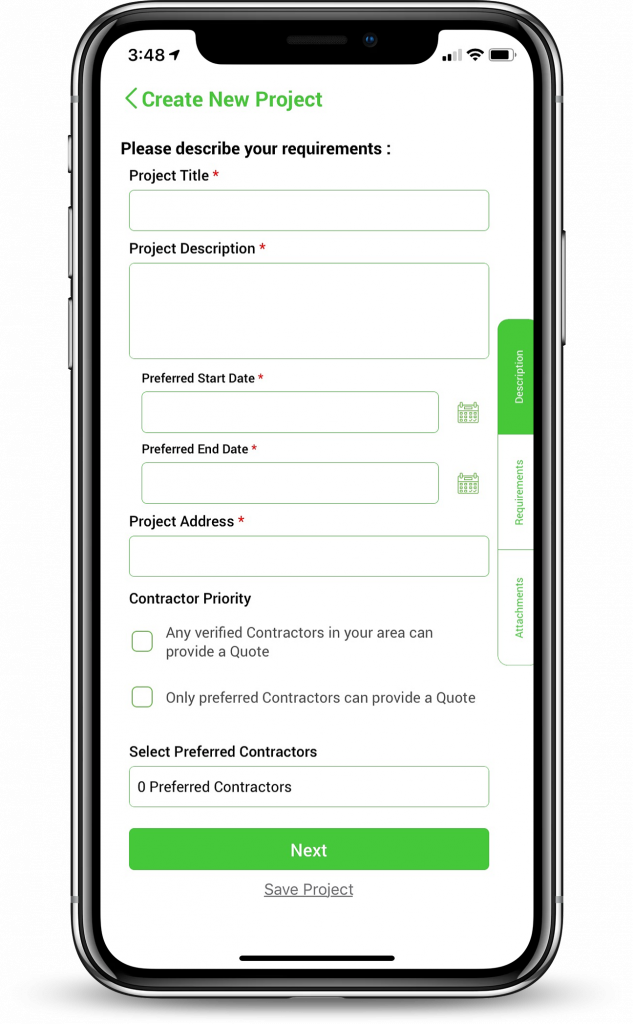 POST YOUR PROJECT IN MINUTES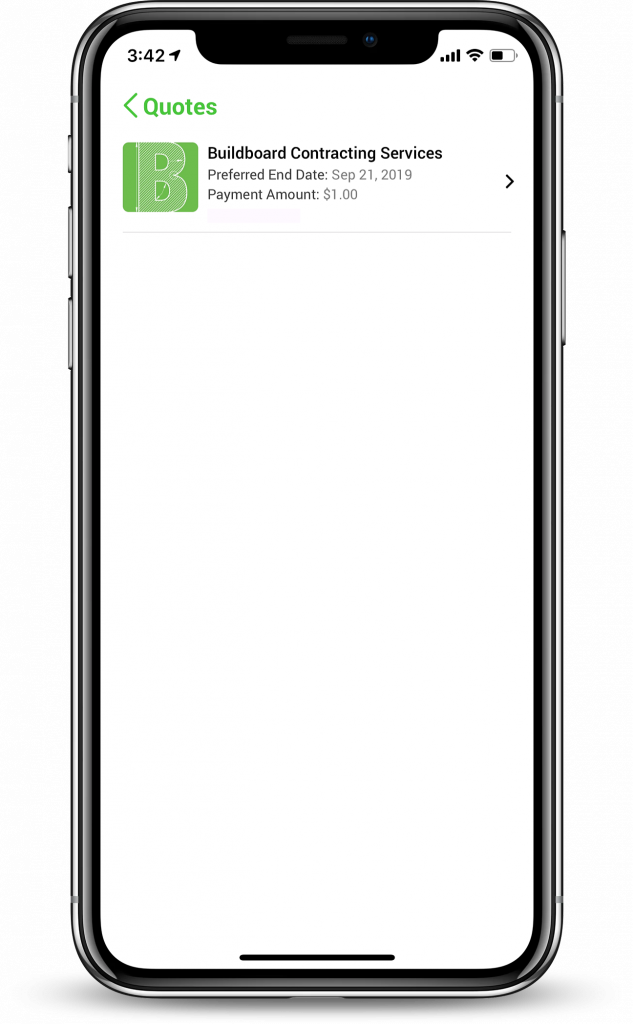 GET QUOTES AND CHOOSE A LOCAL CONTACTOR
MAKE PAYMENTS, AND TRACK PROJECT PROGRESS FROM THE CLOUD
© All rights reserved. Buildboard 2019